Discover more from Digital Liturgies
Evangelical reflections on theology, books, technology, and society from Samuel D. James.
Over 3,000 subscribers
Discernment Heresy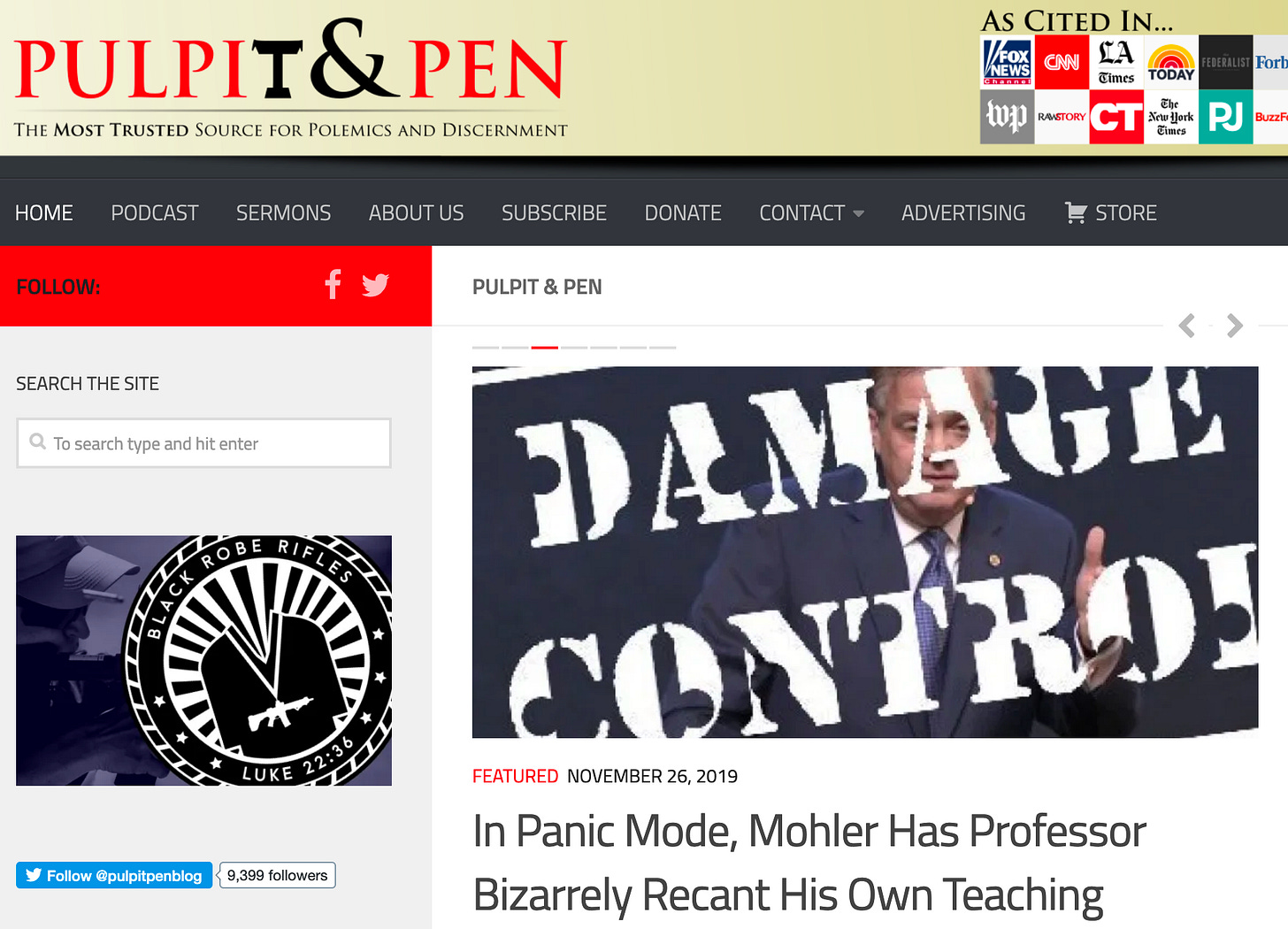 About 6 years ago a friend of mine told me about a Southern Baptist blogger whose trolling of fellow SBCers was legendary. This guy would write thousands of words every week about the evils of Calvinism and the seminaries that taught it. He would live in the comments section bandying about conspiracy theories about why professors were actually fired. His entire online existence was devoted with ferocious single-mindedness to how Calvinists had stolen the denomination from Bible-believers, were planning the exile and persecution of their theological opponents, and how all of this could perhaps be remedied if people simply believed what he wrote.
For a while I read this guy off and on for pure entertainment. I thought it was hilarious how off his rocker this guy was. I chalked his enthusiastic comments section to the wild west of the internet, full of clicks and fury, signifying nothing. I laughed at him because I didn't think for one second he would succeed. He was a troll, not an agent.
What I couldn't know back then was just how successful the model of conspiratorial, incessant content-producing internet presence would turn out to be. Everybody knows about "fake news" and social media propaganda. But not everybody knows that in the evangelical Christian world, bullying your opponent into either being smothered or silenced is becoming a more popular strategy. "Discernment ministries"—so called since they allegedly empower readers to discern theological truth from error—have become for online Christians what Reddit and YouTube are for politically-conscious Americans.
(If this characterization seems over-generalized, I apologize and concede the point. Not all discernment ministries fit my description, but the more influential ones sure seem to)
In trying to parse out why seemingly biblically literate people are capable of behaving so foully toward those they disagree with, I've come up with a theory that seems to me both logical and supported by evidence. I shared it on Twitter recently:
Let me offer a brief explanation why I think this is true.
From where I'm sitting, most of the trollish discernment ministries have something in common: A cerebral, alpha-male theological culture that often talks about doctrinal orthodoxy with warfare language. There's an overwhelming emphasis on correct belief, and the essence of Christian duty is expressed primarily through believing the right propositions and trying to convince others of them (this is where battlefield jargon like "holding the line" or "fighting the good fight" typically goes).
This kind of culture is common at seminaries and at churches that are influenced by seminaries. To a great deal, good seminaries need this kind of culture at least below the surface. There is no virtue in not knowing what you believe, and for an institution, belief inevitably has a positive aspect (this is the kind of doctrine we expect from our professors) and a negative one (this is the kind of doctrine we won't accept).
The problem is that, especially for analytical personalities—the kind of personality often attracted to theological work—the virtue of knowing what you believe can become a kind of trump card, and correct belief can become synonymous with being a Christian in such a way that every other aspect of Christian duty and identity becomes subordinate to right theology. Further, when this gets combined with the language and imagery of warfare, the victory of the gospel is reduced to mean the victory of the debater.
My point in the tweet was straightforward. The Bible doesn't only speak of theological truth vs error. It also speaks of what kind of people we are. Most importantly, the Bible assigns the same measure of importance to the kind of people we are that it assigns to the correctness of our belief.
1 John 3:14: "We know that we have passed out of death into life, because we love the brothers. Whoever does not love abides in death. Everyone who hates his brother is a murderer, and you know that no murderer has eternal life abiding in him."
Love is a test of faith. When discerning true disciples of Jesus from false ones, whether a person loves is not just important, it is potentially disqualifying. According to the apostle John (and if you're an evangelical, according to the Holy Spirit!), there is no such thing as a persistently un-loving Christian. Love of other believers is a test of someone's faith every bit as much as their doctrinal positions.
So why doesn't the force of 1 John 3:14 wipe away all traces of belligerent Christian "discernment"? Because, for quite a few evangelicals, the Bible's emphasis on love can be explained away by the formulation that telling someone theological truth is automatically loving. Thus, when pushing back on heavy handed or unkind language deployed in the service of theological principle, one often hears something like, "It is unloving to allow people to persist in error! By fighting for the truth I am loving others."
The problem with that is the Bible doesn't really talk this way. Look at how Paul not only connects love with truth, but makes speaking lovely the means by which Christians grow into doctrinal (!) maturity:
Ephesians 4:15: And he gave the apostles, the prophets, the evangelists, the shepherds and teachers, to equip the saints for the work of ministry, for building up the body of Christ, until we all attain to the unity of the faith and of the knowledge of the Son of God, to mature manhood, to the measure of the stature of the fullness of Christ, so that we may no longer be children, tossed to and fro by the waves and carried about by every wind of doctrine, by human cunning, by craftiness in deceitful schemes. Rather, speaking the truth in love, we are to grow up in every way into him who is the head, into Christ, from whom the whole body, joined and held together by every joint with which it is equipped, when each part is working properly, makes the body grow so that it builds itself up in love.
"Love" is not merely a synonym for "truth." Truth does not absorb love, it accompanies it. Ancient Christians taught of God's truth, goodness, and beauty: the three are neither opposed nor interchangeable. Sadly, you can go a long time in conservative evangelicalism and not hear preaching that takes this very seriously.
This is my burden right now for wide swaths of conservative Protestantism. I am anxious that a one-note emphasis on worldview education has conditioned this generation of preachers and teachers and church leaders to look at the gospel and see only ideas, ideas that must be promoted and protected. I am anxious that many Christians see ideological enemies where there are none because they're always looking for them, because they think that's what they should be doing. And I'm anxious that before a biblically balanced way of talking about truth and love intervenes to stop the proliferation of mean-spiritedness in our tribe, things will get worse, people will get seriously wounded, and our witness will be horrifically undermined.
I'll give the last word to Francis Schaeffer and his invaluable essay, "The Marks of a Christian."
A fifth way in which we can show a practicing, observable love to the world without sharing in our brother's mistake is to realize, to keep consciously before us and to help each other to be aware, that it is easy to compromise and to call what is wrong right, but that it is equally easy to forget to exhibit our newness in Christ.

This attitude must be constantly and consciously developed -talked about and written about in and among our groups and among ourselves as individuals. In fact, this must be talked about and written about before differences arise between true Christians. We have conferences about everything else. Who has ever heard of a conference to consider how true Christians can exhibit in practice a fidelity to the holiness of God and yet simultaneously exhibit in practice afidelity to the love of God before the watching world?

Have you heard of sermons or writings which carefully present the simultaneous practice of two principles which at first seem to work against each other: (1) the principle of the practice of the purity of the visible church in regard to doctrine and life; and (2) the principle of the practice of an observable love and oneness among all true Christians?

If there is no careful preaching and writing about these things, are we so foolish as to think that there will be anything beautiful in practice when differences between true Christians must honestly be faced?

Before a watching world, an observable love in the midst of difference will show a difference between Christians' differences and other people's differences. The world may not understand what the Christians are disagreeing about, but they will very quickly understand the difference of our differences from the world's differences if they see us having our differences in an open and observable love on a practical level. That is different. Can you see why Jesus said this was the thing that would arrest the attention of the world?

You cannot expect the world to understand doctrinal differences, especially in our day when the existence of truth and absolutes are considered unthinkable even as concepts. We cannot expect the world to understand that on the basis of the holiness of God we are having a different kind of difference, because we are dealing with God's absolutes. But when they see differences among true Christians who also show an observable unity, this will open the way for them to consider the truth of Christianity and Christ's claim that the Father did send the Son.

As a matter of fact, we have a greater possibility of showing what Jesus is speaking about here, in the midst of our differences, than we do if we are not differing.

Obviously we ought not to go out looking for differences among Christians; there are enough without looking for more. But even so, it is in the midst of a difference that we have our golden opportunity. When everything is going well and we are all standing around in a nice little circle, there is not much to be seen by the world. But when we come to the place where there is a real difference, and we exhibit uncompromised principles but at the same time observable love, then there is something that the world can see, something they can use to judge that these really are Christians, and that Jesus has indeed been sent by the Father.

---