Discover more from Digital Liturgies
Evangelical reflections on theology, books, technology, and society from Samuel D. James.
Over 3,000 subscribers
You Jolly Well Say It Every Day
Identity politics, NT Wright, Christmas kitsch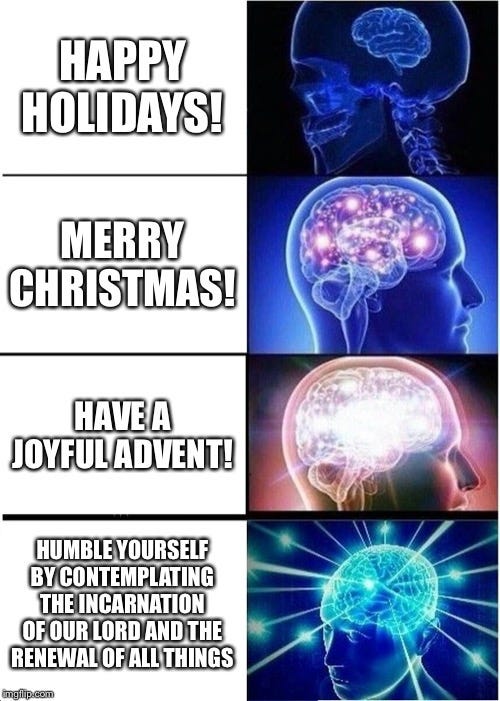 Happy December, friends.
Religious Liberty and White Privilege
One of the more curious spectacles of the current moment is the white progressive who feels sufficient to define, explain, then enforce what "people of color" really believe. This often takes the form of a white progressive expressing a high amount of outrage for something they perceive as racially offensive, yet the racial minorities around them express ambivalence or even the opposite point of view. There was a vivid example of this just this past week, captured in a video posted by Max Lewis, that shows a white member of a protest group interrupting a black-led rally for Pete Buttigieg and chastising the (African-American!) leaders at the rally for supporting such an insufficiently woke candidate. New York Magazine writer Jesse Singal summed it up:
But there are more sinister examples. Consider, for example, a former evangelical college professor's explanation, to Rolling Stone, on the meaning of 'religious liberty.'
In his promises to Christians and his overt nationalism, Trump uniquely equated American salvation with American exceptionalism, asserting that to be great "again," America had to come down on the right side of those very wedge issues that the religious right felt would be their reckoning. Even more, he affirmed and evangelized the belief that it is not only acceptable but actually advisable to grant cultural dominance to one particular religious group. "The white nationalism of fundamentalism was sleeping there like a latent gene, and it just came roaring back with a vengeance," says [Gregory] Thornbury. In Trump's America, " 'religious liberty' is code for protection of white, Western cultural heritage."
So there you have it: non-white Christians, concerned about the tax-exempt status of the schools they attend, the businesses they start, and the churches they donate to simply don't know what's good for them. The one-time Democratic phenom Beto O'Rourke's suggestion that churches that decline to perform same-sex marriage lose their tax exempt status? Nah, that's not really a black or Hispanic issue. That's just something that makes bigoted white people nervous.
Of course, this would be an awkward bit of news for millions of global Christians currently facing political and cultural persecution. I think now of Cardinal Robert Sarah, a Guinean Catholic currently holding a traditionalist line against the furious efforts of white, European bishops who want to revolutionize Catholic teaching. The question for Dr. Thornbury could be put thus: According to your formulation, Cardinal Sarah is either 1) ignorant and manipulated by white nationalists, or 2) insufficiently black. Which one?
Herein lies the fatal flaw of identity politics. When a certain kind of person is supposed to say a certain kind of thing, the only coherent option when they don't say it is to attack them, either as stupid or traitorous. Identity politics is the acquisition of membership in exchange for personhood.
---
In Defense of Christmas Kitsch
I agree with Michael Brendan Doughtery: Christmas kitsch and commercialism feel like relief:
At least the commercialism of Christmas carries within it news of "joy" and "goodwill to men." And in a time of great change, it offers us stodgy, solid traditions. In a dark mood, it blares in with a message of light. The Victorian-era residue on Christmas points us away from our meritocratic striving and our ceaseless pursuits of distinction. It reminds us to do charitable works, and to share our blessings with the poor, the less fortunate. It points east, with the giddy rumor of some great outburst of hope and a promise of peace.
Yes, yes, yes. But here's another possible explanation. Perhaps Christmas kitsch is, at least in some real sense, one of the last vestiges in American culture of shared life. Everyone in the department store gets to listen to Christmas music. Everyone watching cable gets to see Home Alone. The power of Christmas's seasonality is such that even Netflix—the crown jewel of tech's mission to isolate us into individual units of consumers who curate endlessly and thus have nothing truly in common—can't escape it. Christmas is perhaps the only thing left in society that pushes itself onto everyone equally. It's the last true public liturgy, the last Sabbath.
There's something undeniably beautiful about something that you see most everyone participating in. It's the God-placed yearning within all of us for a church of something. The closest most Western people ever get to noticing this is sports. As long as we have Christmas kitsch, though, there will be at least a few weeks every year where this longing gets something close to its correct name.
---
For Goodness' Sake, Read the Gospels!
An absolute gem from this interview of N.T. Wright:
Green: If you were talking to a young person who feels anguish about what Christianity has come to mean in America, what would you say to him or her?

Wright: For goodness' sake, read the four Gospels. That's what they're there for. And recognize that in the prayer Jesus taught us to pray: "Forgive us our trespasses." You don't just say that once, at the beginning of your Christian life. You jolly well say it every day, because you will need to. The trouble is that the Church is far too good at hoping that everyone else will be asking for forgiveness for their trespasses. Self-critique is part of the Gospel. And where the Church forgets that—oh boy, things go badly wrong.
When anyone forgets that, things go badly wrong.
---
These Are the Golden Hours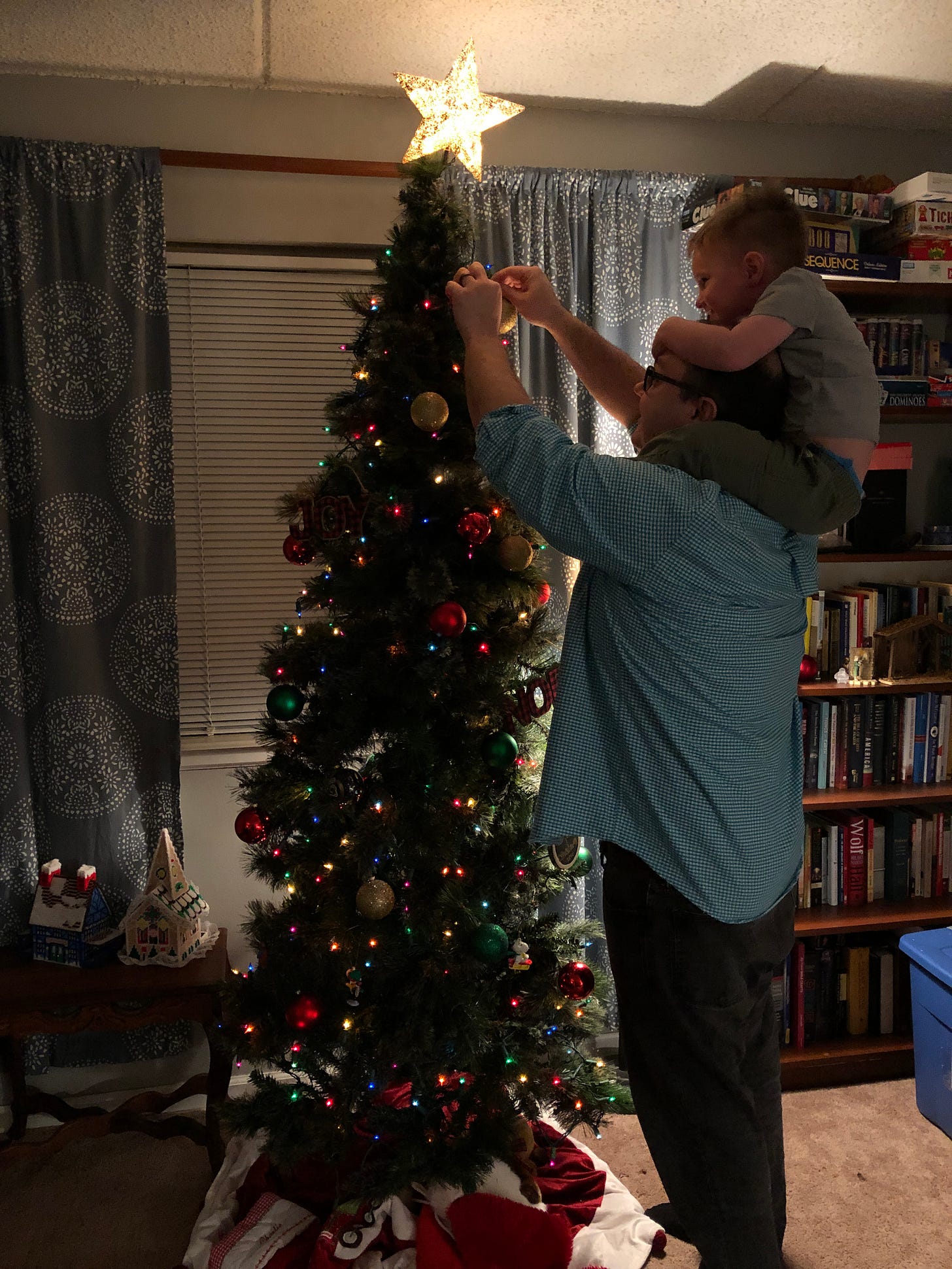 ---
Currently:
Writing: Not much, to be honest, other than this newsletter. Pray that I would be refreshed this month and able to hit the ground running in 2020, as this has been a difficult, inconsistent year for me.

Reading: Come Let Us Adore Him: A Daily Advent Devotional (Paul Tripp), Unbelief and Revolution (Guillaume Groen van Prinsterer).

Listening: Some great carols on this playlist that features the Mormon Tabernacle Choir. I'm also very "meh" on the new Coldplay.

Eating: Egg'lectic Cafe, our absolute favorite Chicagoland brunch place.

Watching: Diligently trekking through s.3 of The Crown, but if I'm honest.
---